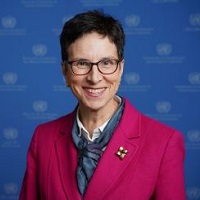 ASG Ursula Mueller
Assistant Secretary-General for Humanitarian Affairs and Deputy Emergency Relief Coordinator in the United Nations Office for the Coordination of Humanitarian Affairs (OCHA)
Ms. Ursula Mueller is the Assistant Secretary-General for Humanitarian Affairs and Deputy Emergency Relief Coordinator in the United Nations Office for the Coordination of Humanitarian Affairs (OCHA). Ms. Mueller was appointed by U.N. Secretary General António Guterres and began her assignment in March 2017.
Prior to her current role as Assistant Secretary-General, Ms. Mueller spent over 30 years working in international affairs, global issues and development financing. She served as the Executive Director of Germany to the World Bank Group from September 2014 to February 2017, where she was responsible for strategy, policy and budgeting, and helped to foster closer cooperation between the World Bank and the United Nations.
Ms. Mueller also served in various government and public service roles, including Director-General of Germany's Ministry of Economic Cooperation and Development (2012-2014) and Deputy Director-General of the Ministry of Foreign Affairs (2010-2012). From 2009 to 2010, she coordinated a taskforce in the German Ministry of Foreign Affairs to respond to the global financial crisis.
Ms. Mueller brings to her position significant humanitarian and field experience. As Germany's Humanitarian Coordinator from 2006 to 2009, Ms. Mueller managed Germany's multimillion-dollar humanitarian aid budget, oversaw Germany's humanitarian operations, and took forward new initiatives on landmines and conflict prevention. During this time, she also served on the Advisory Board of both the UN Central Emergency Response Fund (CERF) and the UN Relief and Works Agency for Palestine Refugees (UNRWA). Before this, Ms. Mueller was Germany's Special Envoy to Afghanistan (2001-2002) and Germany's Civil Coordinator in Kosovo (2000).
Ms. Mueller studied economics at the University of Hagen, Germany and graduated from Germany's Foreign Affairs Institute with a Master of Arts in Public Policy and Administration.