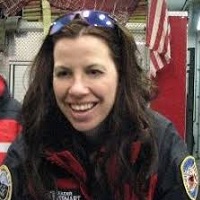 Denise C. Everhart
Denise C. Everhart has been with the American Red Cross since 2013 and has been the Division Disaster Executive for the Pacific Division since 2015.  The Pacific Division consists of California, Oregon, Washington, Alaska, Hawaii, American Samoa, Guam and CNMI.  Denise leads and manages the team responsible for the implementation of disaster services programs throughout the division, ensuring disaster services (Prepare, Respond, and Recover) are delivered in a rapid and accessible manner, meeting the urgent needs of clients.
In her time at the Red Cross, she has responded and led over 30 disaster operations including the Hurricanes Harvey, Irma and Michael, Typhoons Gita, Soudelor and Yutu, The 2017 and the 2018 California Wildfires, including the Camp Fire.
Prior to her time at the American Red Cross she served for 9 years as an External Affairs Officer for FEMA Region X, responsible for Congressional, Intergovernmental, Tribal, Public/Private Sector Affairs, and Community Relations.  During this time she responded to Presidentially declared disasters in Alaska, Idaho, Oregon and Washington for FEMA Region X as well as nationally to over 30 disasters, including Hurricane Katrina, Hurricane Ike, Cedar Rapids flooding, Alabama Tornadoes and Hurricane Sandy.
Mrs. Everhart is also a volunteer Lieutenant Firefighter and EMT at the Molalla Rural Fire Protection District #73 in Molalla, OR.